Conventional Insert Profile Heads

This new insert tooling system from Weinig is the answer for woodworking businesses that require an economic tooling solution for the production of small precision profiles.

This new system offers the following advantages:
• Eliminates the requirement for a dedicated tool body. Multiple profiles using inserts can now be accomplished with the same tool body.
• New design provides the industry's most positive locking and locating system for insert knives.
• Carbide inserts.
• Use on both hardwoods and softwoods.
• Profile backers are a one-time purchase. Reusable with new inserts.
• Cutting circle: 175mm maximum; 125mm minimum.

Now available in extended working widths!
Standard profile width is 35mm (1 3/8")
Also available in 60mm (2 3/8") - 105mm (4 1/8") - 150mm (5 29/32")
Sizes listed below by working width.

In stock inserts and backer plates can be found under the "Replacement Inserts" menu item at left.
Custom carbide profile knives and backers available from the Weinig Tooling Department. Approximately one week delivery. Call for pricing.
CombiHead Profile Head
No grinder is required now to produce "S4S" material with radius or bevel corners, small grooves, backside relief cuts on flooring products, or even a limited number of small custom profiles.

The CombiHead combines the versatility and cost effectiveness of movable insert profile knives in the same cutterhead with reversible carbide planer knives.
Maximum speed of 8,000 rpm.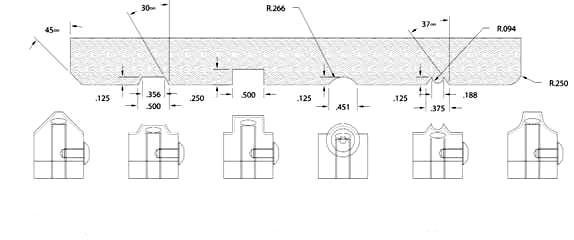 Each CombiHead includes a pair of of HSS planer knives.
Clamping wedges and profile inserts are additional.
Sizes shown are available from stock. Metric or custom sizes available on request. Standard Inserts: Profile Width: 3/4", Max Profile Depth 1/2"


Custom Inserts and Gibs for 2" x 1/4" Profiles also available at $58.00 each.